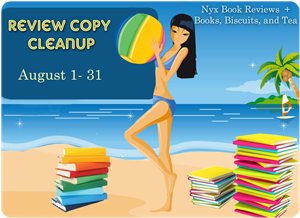 Oops, starting a little past the start date. I've been so caught up with watching the Olympics, haha. Can't believe August has started, which means it's almost the end of summer already! This year is really flying by! I have to confess, I've been a little lazy with the reading and reviewing. I'm sitting on at least 2 reviews waiting to be written...Hopefully I'll get to writing them during this challenge!
Anyway, for this Review Copy Cleanup, I'm hoping to read at least 4 books:
Monster in My Closet
by R.L. Naquin
Forbidden
by Nicola Cornick
Hidden Paradise
by Janet Mullany
Consumed
by Rebecca Zanetti
And maybe a few more! August should be a good month for reading and reviewing. It's also my birthday month. :) Stay tuned!